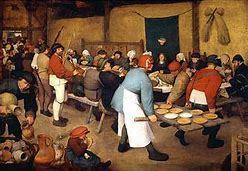 Notices for the Week of September 1 to 7
Readings for Next Sunday, September 8th – Pentecost 13
Jeremiah 18:1–11;
Psalm 139:1–5, 12–17;
Philemon 1–21;
Luke 14:25–33
It's Jams and Jellies Time! – That's right, in prep for the Bazaar you are invited to make jams, jellies, chutneys, pickles etc. If you would like jars to put these in, please speak with our jar lady, Jacquie Stinson.
Lunch Bunch – The first gathering for Lunch Bunch will take place in October. Lunch Bunch will NOT meet in September.
The Bells of St. Helen's – The Bells newsletter has been resurrected as a means to help parish communication. The first edition of the renewed newsletter was emailed to most parishioners this week. If you did not receive it via email, it may be that we do not have an email address for you. If you think this is the case, please give this information to one of the wardens or the rector, or to Jos Laskey. For those who do not have email, there are hard copies of the newsletter available today.
Forthcoming Events and Fall Programme
*Corn Roast – Next Saturday, September 7th – Our 6th Annual Corn Roast. It runs from 5pm to 8pm. Tickets are $15 each and are available from Judy Nicholson
*Welcome Back Sunday - Sunday, September 8th – Welcome Back Eucharist and Sunday School Registration – The service will be followed by an ice cream social
*Harvest Sunday & Pie Sale is October 6th. Fresh baked pies will be on sale after the service to help your Thanksgiving table. be ready for you guests.
*Thanksgiving Sunday is Sunday, October 13th. We will give thanks to God for all the blessings of life and community, protection and challenges
Saints Days and Commemorations This Week
2nd - Martyrs of New Guinea, 1942 Mem
3rd - Gregory the Great, Bishop of Rome, 604 Mem
4th - First Anglican Eucharist in Canada, 1578 Com
The Season of Creation Christians around the world are invited to give particular attention to praying and caring for God's creation as part of the global Season of Creation, observed from September 1 to October 4 every year. General Synod 2019 passed a resolution adopting the Season of Creation in the Anglican Church of Canada as a time of prayer, education, and action and encouraging dioceses and parishes to participate. There are many ways your community can participate in the Season of Creation. Hold an ecumenical or interfaith prayer service; worship outdoors; go for a hike with members of your parish; work to reduce your plastic or energy consumption; or advocate for stronger environmental policy. Any ideas about what we might do over the next month as a part of the season of creation?
Food Bank and Surrey Urban Mission – Please remember both the Surrey Food Bank and the Surrey Urban Mission as we move into a new season of gather and sharing.
Surrey Food Bank – you are welcome to bring non-perishable long-dated food items to the church which we will ensure gets to the food bank or perhaps even better cash donations made directly to the food bank may be made. They can make their dollars go further than any of us can. We are aware of a few people of St. Helen's who make a monthly cash donation.
For the Surrey Urban Mission, there are always opportunities to help in voluntary ways. Do be in touch with them to find out more. Their phone number is 604-581-5172. Their website is www.sumsplace.com All of us can made a difference and that means that you too can make a difference. Be a blessing to others and you will certainly be blessed yourself