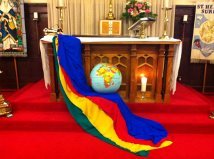 Week of November 8th –14th
Sunday November 8th
10am Holy Eucharist on Remembrance Sunday
with an act of Remembrance during the service.
Wednesday – Remembrance Day – No services or Bible Study today

Tri-Parish Quiet Day – Saturday, Nov 21st Just in time to prepare for Advent the parishes of St. Helen's, St. Michael's and Church of the Epiphany are offering a quiet day. The reflections and meditations will be led by our own priest, Steve Laskey. The gathering is from 9:30am with the day beginning at 10am. Tea/Coffee etc. will be provided. Please bring your own bag lunch. The day will conclude at 2pm.
International Pot Luck Supper – Saturday, November 21st We are a wonderful multicultural community celebrating our common faith in Christ and each year we celebrate the anniversary of the turning of the sod, laying of the foundation, consecration of the land for our church of St. Helen on the Reign of Christ Sunday. This year we will have a potluck on the Saturday evening. It's a great time of fellowship and fun. A splendid time to invite your friends and parishioners we haven't seen for a while. Do think up your most revered dish to bring along and share with us all. Would you like to help with some entertainment? If so, please speak with our rector, Steve.
Our Christmas Bazaar - Please volunteer to be part of the team working to make our annual Christmas bazaar a great success. Still looking for people to help on the tables, and for donations in the following areas: Previously loved Christmas items/decor: give to Dawn Laidman Previously loved jewelry: give to Kelly Foulds Would you be willing to sew a few simple items? See Lynn Turner Can you provide a couple of boxes of Ferrero Rocher chocolates, or bags of Werther's? If you can provide items for a themed basket, talk to Heather Herd. Are you working on a project for the bazaar? Please let Lynn know.
Bazaar WORKBEE: Tuesday, November 17 at 10:00 a.m. in the upper hall - if you are working on something, do bring it along. Please make sure that the table leaders have any and all of your donations at least one week before the bazaar, this is necessary so that they know what they have and can prepare accordingly. The exception to this is of course the pantry and baking tables. AND, please get the word out, this event is very important, but all our efforts will not be rewarded if we don't have a huge attendance. Thank you!
Lunch Bunch Christmas Lunch Tuesday, December 1st at the ABC restaurant at 15373 Fraser Highway, Surrey. Lunch will be served at 12:30 pm. Cost is $15:00 per person and includes a Seniors turkey dinner, small dessert, tea, coffee and gratuity. If you plan to attend please put $15:00 in an envelope with your name on it and give to Muriel Shearer. Deadline for paying is November 29 so we know the numbers for the restaurant that day. All are welcome, please come and join us.
Readings for Sunday, November 15th, 2015 – Pentecost 25:
1 Samuel 1:4-20,
Psalm/Canticle 1 Samuel 2:1-10,
Hebrews 10:11-14, 19-25,
Mark 13:1-8