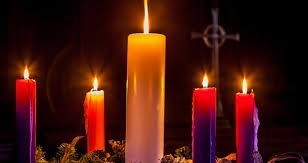 Notices for the Week of December 15th – 22nd
Parish Council – meets this Tuesday, December 17th at 7pm in the Rector's office.
Christmas Flower Donations are gladly accepted. Please place your donation in the offereing plate along with a note of who you wish to remember.
New Parish Office Hours Established for St. Helen's Please do remember that we do now have limited office hours. Mondays from 9am to 1pm and Wednesdays and Thursday afternoons from 3:30pm – 5pm. Please be in touch with the office for information or any non-urgent needs. If you leave a phone message your will get a call back. The same goes for emails to the parish office. Dodi Mesenchuk is our parish administrative assistant until the spring.
Offering Envelopes for 2020 The new offering envelopes for 2020 are now available at the back of the church. If you did not pick up your new box on the way in, please make sure you pick them up on the way out. If you have questions about them, or if you do not have offering envelopes now and would like to begin using them, please speak with Jos Laskey.
Update on the Depreciation Report and Sound System There have been a few visits to the church this week by tradespeople as we continue to gather information to prepare a depreciation report. The sound man will be back in on Monday or Tuesday to continue the installation of the new sound system.
Tri-Parish Christmas Luncheon at Len Shepherd House Thank you to those who contributed money to purchase Tim Horton's gift cards as gifts to the residents who will come to the meal. There was $100 given to the rector to help with the cost of the gift cards Each of the other parishes has also made contributions for these gifts. In addition, St. Helen's, along with St. Michael's and Epiphany are each providing $100 toward the cost of the Turkey dinner. This event takes place tomorrow Monday, December 16th. Thanks to everyone for your generosity.
The Christmas Pageant takes place next Sunday, December 22nd, the 4th Sunday of Advent. Everyone is invited to dress up as your favourite character from the Story of the Nativity of Jesus. Please arrive very early to get into your costume so we can start on time. We need shepherds, sheep, Wise Men (and Women!), Angels and Stars. You can even dress as a camel or a cow or any other domesticated farm animal (no lobsters, please). The pageant takes place during our 10am service. There are no lines to learn and the narrator will guide us all along as we travel from Nazareth to Bethlehem where Jesus was born.
Readings for Next Sunday, December 15th – Advent 4
Isaiah 7:10–16;
Psalm 80:1–7, 16–18;
Romans 1:1–7;
Matthew 1:18–25
Holy Days for this week Dec. 15th – 22nd
Dec 15 - Simon Gibbons, First Priest from the Inuit, 1896 Com
Services for Christmas Eve and Christmas Day and Following Please take note of the following dates and let others in your family and friends know about our Christmas celebrations.
Christmas Eve – 7pm - Candlelight Eucharist
11pm – Candlelight Eucharist
Christmas Day – 10am – Holy Eucharist
Sunday, December 29th – 10am – (1st Sunday of Christmas) Holy Eucharist
December 31st – 6pm – Holy Eucharist to celebrate the Holy Name of Jesus followed by a potluck supper. We finish early enough for those who like to party well into the new year are able to get to their next destination.
Sunday, January 5th – 10am - Holy Eucharist to celebrate the Epiphany of our Lord and the visit of the Magi.