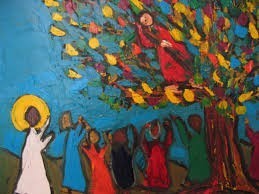 Notices for the Week of November 3rd – 10th
Bishop's Clergy Retreat – The rector will be away from Monday, Nov 4 to Wednesday, Nov 6 attending the Bishop's Clergy Retreat. If there are any emergencies, please leave a message on the office phone. Our curate, Jonathan Pinkney will respond.
Lunch Bunch meets this Tuesday, November 5th. Gathering is at 11:45 with Lunch at 12 Noon. Contact person is Joan Hnedish.
Work Party for Saturday, November 9th - Painting the foyer in the lower hall and Gravel spreading in the parking lot will take place next Saturday. The gathering time to begin work on both of these projects is 10am.
Remember – Next Sunday, November 10th is Remembrance Sunday. There will be trumpet and an act of remembrance. Invite people
The Bells of St. Helen's – The Bells went out last week by email. If you do not have email or did not receive the newsletter, there are hard copies available at the back of the church.
Christmas Bazaar – Our Annual Bazaar will take place on Saturday, November 23rd. More information from Lynn Turner. Further details will be published in The Bells Newsletter.
Special Christmas Concert – Friday December 6th, 7pm in the church. Saskia & Darrel Delaronde will be performing a special concert for the season. Tickets are $20. Tickets are available after the service. If you can take a poster to put up, please speak with the rector.
Order your tickets by email to have them set aside but must be paid for before the concert. Email: [email protected] Just indicate how many tickets you would like reserved.
Parish Multicultural Carol Service – will take place on Sunday, December 8th at 7pm. Get your voices and groups ready and singing.
Readings for Next Sunday, November 10 – Remembrance Sunday
Haggai 1:15B—2:9;
Psalm 98;
2 Thessalonians 2:1–5, 13–17;
Luke 20:27–38
Saints Days and Holy Days for this week
November 7 – Willibrord, Bishop of Utrecht; 739; Commemorati on