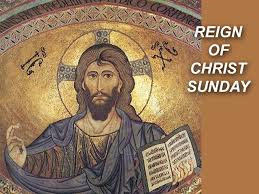 Notices for the Weeks of September Nov 25 – Dec 1
Annual Christmas Bazaar - A Huge Thank You A huge thank you goes out to everyone who helped to make our Annual Christmas Bazaar such a success this year. There are really too many people to thank here on the notice sheet but if you were at the Bazaar yesterday, make sure to go up to the people you saw staffing the various stalls, preparing and serving the lunches as well as the tickets and say thank you. There are also the unsung heroes who set up, and took it all down again.
December seniors' lunch bunch is: Tuesday, December 4th at the Knight and Day restaurant, 9677 King George Blvd. at 11:30 am for Dinner at 12: noon. Cost $20.00 Turkey Dinner with a salad, coffee, tea and your choice of dessert of lemon or apple pie. Today is the last day to speak with Joan Hnedish about it all.
Readings for Next Sunday, December 2 – Advent 1
Jeremiah 33:14–16;
Psalm 25:1–9;1
Thessalonians 3:9–13;
Luke 21:25–36
Saints Days and Commemorations this Week
Saint Andrew the Apostle 30 November Holy Day
For more about these Holy Days please do visit the website 'For All the Saints' at: www.anglican.ca/about/liturgicaltexts/ and click on 'For All the Saints'. Here you will find a short biography of the particular person or info about the Holy Day as well as readings and prayers for the day.
Tri-Parish Outreach for Christmas – Our three parishes (St. Helen, Epiphany, St. Michael) plan to help with a Christmas Luncheon at Len Shepheard Manor (101 Ave. near 152 St.) on December 17th. We would like to have 2 or 3 people from St. Helen's go on the 17th to help with set up, serving, and clean up. The main cooking will be done by the staff. St. Helen's will also be helping out with costs towards goody bags. If you would like to help out in any way or make a cash donation toward the cost, please speak with rector or one of the wardens
And Now Looking forward to Advent and Christmas…
A Cultural Christmas Carol Sunday, December 9th at 7pm. This will be our 4th annual Carol service and it is always well attended. It is a great time to invite your friends and other family member to come along to this wonderful, intimate, gathering for reflection on the Second Sunday of Advent. We listen to the Word of God in some of the languages of the people who make up St. Helen's. We also listen to Carols sung in the rich variety of languages of our membership and we will sing Carols as well. We begin in candlelight and we finish in the fulness of the Light of Christ.
Pavilions of Light –We need your help! Last year we introduced the Pavilions of light that display scenes of the Christmas story.The pavilions need to be put together again this year but that is a simple matter of reassembling the pieces from last year. Each pavilion though, needs to be decorated and can be done as a special project by you, one or two people, or your group. If you or your group would like to decorate one of the pavilions, please be in touch with our rector, Steve. We have most of the materials from last year and each one already has its theme to work with.
Walking in the Splendour of the Light of Christ – This year the church will be open each evening from Sunday, December 16th to Sunday, December 23rd. We hope to have various groups plan and host an evening each for this week-long event. Let's get our imaginations revved up about what we might do to make each evening an opportunity to share the Christmas story and warm the hearts of everyone who comes.
Services for Christmas Eve and Christmas Day – There will be two services on Christmas Eve at 7pm and 11pm. Each will begin in candlelight. The Christmas Day service will be at 10am.