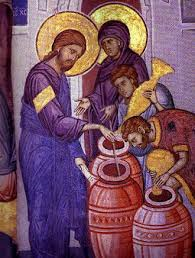 Notices for the Weeks of January 20th - 26th
Congratulations!! To Yudah Paw and William Lah whose baby boy was born on January 4th at 10:58pm. They have named him Ryan David Lah. The family are doing very well. I
nternational Dinner – Last year our International Dinner was a great success. We are presently organizing the dinner for this year and expect it to take place on the evening of the last Saturday in February. Please put Saturday, February 23rd in your calendar. More information will be available next week.
St. Helen's Annual Vestry Meeting – Our AGM will take place on Sunday, February 24th following the 10am service. At our meeting we receive the reports of various committees, the financial reports, elect the church council and approve the budget for 2019. All those who are to submit a report (electronic Word Document) should do so no later than January 27th. Reports may be sent by email to the office at: [email protected]
Readings for Next Sunday, January 27th – Epiphany 3
Nehemiah 8:1–3, 5–6, 8–10;
Psalm 19;
1 Corinthians 12:12–31A;
Luke 4:14–2129; Acts 8:14–17;
Saints Days and Commemorations this Week
Jan 21 Agnes, Martyr at Rome, c. 304 Commemoration
Jan 22 Vincent, Deacon of Saragossa, Martyr, c. 304 Commemoration
Jan 24 Francis de Sales, Bishop of Geneva, Teacher of the Faith, 1622 Commemoration
Jan 25 The Conversion of Saint Paul Holy Day
Jan 26 Timothy and Titus, Companions of Saint Paul Memorial
For more about these Holy Days please do visit the website 'For All the Saints' at: www.anglican.ca/about/liturgicaltexts/ and click on 'For All the Saints'. Here you will find a short biography of the particular person or info about the Holy Day as well as readings and prayers for the day.
Sunday School Teachers – Would you like to become involved in the faith development and ministry to children. If so, please speak with the rector or with Fil Sotana
Sunday Ministries – Each Sunday we have a great variety of people to fill various ministries. No one ministry takes a lot of time but each is an integral part of our time together right from greeting people at the door to serving refreshments and everything in between. We would like to add people to the teams for all our Sunday ministries. We know there are a good number of people who are assigned to a ministry at this time. All these ministries are a part of the work of all of us together. The list of ministries are the following together. Our participation shows our commitment to our own church family. The list of ministries you may be interested in fulfilling are the following: Greeter/Usher Chalice Administrator Server/Crucifer Refreshments (coffee hour) Readers Altar Guild If you would like to know more about any of these, please speak with the rector who will direct you to the person in charge of the ministry.
Flowers for the Altar on Sundays Every Sunday the altar is adorned with flowers. The flowers are placed on the altar in memory of loved ones who have died or in thanksgiving to God for reaching milestones in life, as anniversary celebrations, graduation, etc. If you would like to make a donation for the cost of the flowers on any Sunday, please let Heather Herd know. Your name and the reason for the memorial or thanksgiving will be placed in the Sunday service sheet. People do ask how much to donate for the flowers. The simple answer is that we spend approx. $35 each week for the flowers and we hope that the flowers pay for themselves; but please make your donation as you feel appropriate. Your donation may be put in the offering plate on Sunday. You will receive a phone call a week before the notice goes in the service sheet as a reminder to be there on the Sunday for which you have sponsored the flowers.