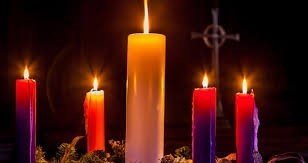 Notices for the Week of December 8th - 15th
Parish Multicultural Carol Service – Tonight – Our Annual service will take place this evening, December 8th at 7pm. We feature people singing carols and reading Bible passages in their mother tongues. This is a time to celebrate the many gifts and talents as well as the breadth of cultures that people have brought with them to St. Helen's. In this we realize the all-encompassing love of God.
Sound System – Update – There has been some work done in the vestry this past week to prepare a place to install the components of the new system. This work will continue next week. There will be some other refurbishment of the vestry undertaken with a new configuration for the closets, storage space, sink and counter. The installer is optimistic to have the new system in place for Christmas.
New Parish Office Hours Established for St. Helen's As shared in the last Parish Newsletter, the parish council agreed that someone be hired for administrative assistance in the office. We expect the position is going to grow incrementally beginning with 8 hours a week and over a period of months to grow to 16 hours per week. So we have started with 8 hours a week as of December 2nd. The office hours when it will be staffed are Mondays from 9am-1pm and Thursday and Fridays from 3:30pm to 5:00pm. Because of the difficulty to find someone to fill only a few hours a week, Dodi Mesenchuk has agreed to come on temporarily until all the hours we are planning to have are in place. We hope to achieve 16 hours having the office staffed by someone by the spring. We envision 4 hours a day for 4 days a week. Most everyone will know Dodi who sings in our choir and who for a few years made up the schedules for the Sunday Ministries. Dodi is also the parish administrator for the parish of St. George, Fort Langley so she will bring to us what she has learned about helping to administer the work in a parish office and get us well established. For the last few years, our rector, Steve, has had most phone calls and emails from parishioners sent directly to him. Please now send emails to the parish office and telephone the parish office. You may leave a message on the voice mail and emails will receive a response in a timely fashion. As you can imagine there will be a settling in period as the parish office once again becomes the hub for our parish administration. There may be a few hiccups as we get things organized but we are sure it will soon be a smooth operation.
Offering Envelopes for 2020 The new offering envelopes for 2020 are now available at the back of the church. If you did not pick up your new box on the way in, please make sure you pick them up on the way out. If you have questions about them, or if you do not have offering envelopes now and would like to begin using them, please speak with Jos Laskey.
Update on the Depreciation Report for the Church Building There have been a number of site visits this past week by a variety of tradespeople to look at all the work that needs to be on the outside of the building as well as electrical for the inside and to view those areas that will require repair and plastering on the inside walls. We will update the everyone as more information comes to us. We hope to be able to share the knowledge gained from this review with the congregation in the new year. The report will certainly be discussed at our Annual Vestry Meeting at the end of February.
Tri-Parish Christmas Luncheon at Len Shepherd House This event takes place on Monday, December 16th. We are in need of some financial help. We are asking for donations of $5 in order to put Tim Horton Gift cards in the small gift bags that will be given to the residents. There will be a jar on the table as you come in the door to our fellowship time this morning. We thank you in advance for your generosity.
The Christmas Pageant will take place on Sunday, December 22nd, the 4th Sunday of Advent. Everyone is invited to dress up as their favourite character from the Story of the Nativity of Jesus. So we need shepherds, sheep, Wise Men (and Women!), Angels and Stars. You can even dress as a camel or a cow or any other domesticated farm animal (no lobsters, please). The pageant takes place during our 10am service. There are no lines to learn and the narrator will guide us all along as we travel from Nazareth to Bethlehem where Jesus was born.
Readings for Next Sunday, December 15th – Advent 3
Isaiah 35:1–10;
Canticle (Luke 1:47–55);
James 5:7–10;
Matthew 11:2–11
Holy Days for this week Dec. 8th – 15th
Dec 8 - The Conception of the Blessed Virgin Mary Memorial
Dec 9 - Prophets of the Old Testament Memorial
Using Advent to Prepare for Christmas
An Advent Resource The Primate's Fund (PWRDF) has put out an email resource of reflections on the Advent season. These can come to you ever day during Advent. All you have to do is sign up online for it. This Advent, we've asked four specially selected writers and theologians to connect themes of Advent to PWRDF areas of work: Laurel, John, Marion and Mary Jo delve into the scripture readings for Advent and connect them to the weekly theme of Advent, and the work of PWRDF. Peace, Love, Joy & Hope will be available for download by November 28, 2019, or subscribe to receive a reflection in your inbox every day of Advent until Christmas morning. The webpage to bring up to sign up is: https://pwrdf.org/get-involved/advent2019/
Our Diocesan Care + Share Program Care + Share has been helping to fund a wide variety of ministries in our diocese since 2011. The ministries are supported for a two-year period to help them to expand and strengthen their work. Every two years Synod selects and affirms from one to three recipients of the care + share donations for the next two-year cycle. At our 2019 Synod, a resolution was passed with an overwhelming majority to confirm the Urban Aboriginal Ministry (UAM) as the recipient of the care + share donations for January 1, 2020 to December 31, 2021. You are encouraged to support this Diocesan ministry and outreach. For more information about UAM and the Rev. Vivian Seegers who runs the UAM, check out this webpage: https://www.vancouver.anglican.ca/news/care-share-advent-campaign-for-2019
Services for Christmas Eve and Christmas Day and Following
Please take note of the following dates and let others in your family and friends know about our Christmas celebrations.
Christmas Eve – 7pm - Candlelight Eucharist
11pm – Candlelight Eucharist
Christmas Day – 10am – Holy Eucharist
Sunday, December 29th – 10am – (1st Sunday of Christmas)
Holy Eucharist
December 31st – 6pm – Holy Eucharist to celebrate the Holy Name of Jesus followed by a potluck supper. We finish early enough for those who like to party well into the new year are able to get to their next destination.
Sunday, January 5th – 10am - Holy Eucharist to celebrate the Epiphany of our Lord and the visit of the Magi.