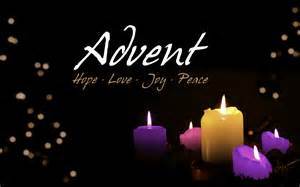 Notices for the Weeks of Dec 2nd – 8th
Tuesday - December 4 Seniors' lunch
at the Knight and Day restaurant, 9677 King George Blvd. at 11:30 am for Dinner at 12noon.
Wednesday Dec 5 – 2pm – 4pm
Soap for Hope – packages put together
Readings for Next Sunday, Dec 9 – Advent 2
Malachi 3:1–4; Cant. 19 (Luke 1:68–79);
Philippians 1:3–11; Luke 3:1–6A
Next Sunday Evening - Dec 9
Readings and Carols for Advent and Christmas
Next Sunday, December 9th at 7pm our special Carol Service by candle light takes place. This will be our 4th annual Carol service and it is always well attended. It is a great time to invite your friends and other family member to come along to this wonderful, intimate, gathering for reflection on the Second Sunday of Advent. We listen to the Word of God in some of the languages of the people who make up St. Helen's as well as Carols sung in a few of the rich variety of languages of our membership. We will, of course sing Carols ourselves. We begin in candlelight and we finish in the fullness of the Light of Christ.
Tri-Parish Outreach for Christmas – Thank you to Jos Laskey, Cathy Anderson, Marion O'Byrne, Pat Nociar, and Heather Herd who have volunteered to help with the Luncheon at the Len Shepherd Home on Dec. 17th. St. Helen's church council has also agreed to contribute $100 for small gifts and goody bags for the residents. The other two parishes are also contributing.
Pavilions of Light –We need your help! During this week and on Next Saturday Morning (Dec 8) we will put the pavilions together and string the lights. Last year we introduced the Pavilions of light that display scenes of the Christmas story. The pavilions need to be reassembled but it is simply a matter of reassembling the pieces from last year. Each pavilion though, needs to be decorated and can be done as a special project by you, one or two people, or your group. If you or your group would like to decorate one of the pavilions, please be in touch with our rector, Steve. We have most of the decorating materials from last year and each one already has its theme to work with. Please speak with Steve.
Walking in the Splendour of the Light of Christ
Sunday, Dec 16 to Sunday, Dec 23 – 6pm to 8pm each night This year the church will be open each evening from Sunday, December 16th to Sunday, December 23rd for anyone to come along and enjoy a reflective time of walking the through our display of lights and then come into the church for hot chocolate and nibbles. There will be carols sung and stories shared. Would you like to be a part of a small group of people to host an evening? Let's get our imaginations revved up about what we might do to make each evening an opportunity to share the Christmas story and warm the hearts of everyone who comes.
Services for Christmas Eve, Christmas Day, & New Year's Eve
Christmas Eve - 7pm and 11pm. Candlelight Eucharist
Christmas Day - 10am – A joyous morning gathering
NewYear's Eve – Dec 31 at 6pm – The Naming of Jesus
Followed by Pot Luck Supper. Please bring a dish to share
Saints Days and Commemorations this Week
Francis Xavier 3 December Missionary to the Far East, 1552 — Comm.
Nicholas Ferrar 4 December Deacon, 1637,
and the Community of Little Gidding – Commemoration
Clement of Alexandria 5 December Priest, c. 210 — Commemoration
Nicholas 6 December; Bishop of Myra, c. 342 — Commemoration
Ambrose 7 December Bishop of Milan, Teacher of the Faith, 397 — Memorial T
he Conception of the Blessed Virgin Mary 8 December, Memorial
For more about these Holy Days please do visit the website 'For All the Saints' at: www.anglican.ca/about/liturgicaltexts/ and click on 'For All the Saints'. Here you will find a short biography of the particular person or info about the Holy Day as well as readings and prayers for the day.