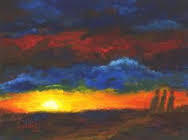 Notices for the Week: April 30th - May 6th
Our Rector, Father Steve will be at a clergy conference from the evening of Sunday April 30th to later in the day of Wednesday May 3rd. If there is an emergency, please leave a message on the office phone. Messages will be picked up several times a day each day.
Yard Work on the church grounds – Over the course of the spring, summer and early autumn there is always work to be done on the grounds for lawn cutting. If you can help, please speak with Roy Francis or Anil Richards.
Bottle Drive Sunday, April 30th: Kelly & Les will be delivering all our deposit recyclables to the recycling depot. Please bring in all yours to go. They need to be left outside the lower hall door before or immediately after the service on this date only please. Thank you for all the contributions.
The Lunch Bunch will meet next on Tuesday, May 2nd at 11:45 in the upper hall.
New Hymn Books Needed – We need to get some new hymn books for the church of the large print variety. The cost is $30 per hymn book. If you would like to make a donation toward the cost of these new hymnals, place your donation in an envelope marked hymn books and place it in the offering plate over the next few Sundays. Donations of $30+ can be noted on overleaf in 'memory/celebration' of a loved one.
Readings for Sunday, May 7th Easter 4
Acts 2:14A, 36-41;
Psalm 116:1-3, 10-17
1 Peter 1:17-23;
Luke 24:13-35